Eric Lindros: The Anti-Mario Lemieux (or is he?)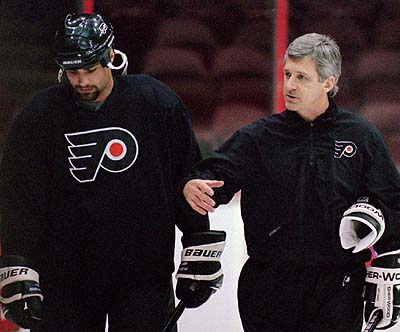 Eric Lindros with coach-at-the-time Terry Murray
The Facts:
Both player have the same size and nearly the same or similar skills on the ice, and have a coach-killing reputation (Lemieux helped show Scotty Bowman the door back in '93, and Lindros didn't support his coach Terry Murray last year), but that's where their similarities end.
Both were at odds with the team that drafted them, but Mario eventually conceded and signed with Pittsburgh. Lindros demanded a trade from the Quebec Nordiques and eventually was dealt to the Philadelphia Flyers.
Lemieux used his size mostly for the finesse part of the game and played physical on occasion; Lindros uses his size mostly to play physical and occasionally to play the finesse part of the game.
Mario's team won in his first Stanley Cup finals appearance (1991), Lindros (1997) did not.
After losing regular season scoring title attempts to Wayne Gretzky, Mario soon thereafter won many of his own. Eric Lindros lost his best bid at a scoring title to Jaromir Jagr in 1995, and hasn't come close since. This season looks to be no different.
Lemieux has had his share of talented teammates, but was unquestionably better than them in every way that counted. Lindros is regularly surpassed on the stat sheet by John LeClair, although there's no question as to who's the team leader.
and now,
The Ironies:
Lindros played his first NHL game against Lemieux in Pittsburgh, and Lemieux played his last game against Lindros in Philadelphia. Both players scored goals in said games.
So far, Lindros has shown the potential to match Lemieux's inability to stay healthy for an entire season
Lemieux never won a Cup since Lindros played his first NHL game, and, obviously, if Lindros ever wins it will be without Mario Lemieux in the NHL. Since Pittsburgh won the last title before Lindros entered the league, will Philadelphia win the first title after Lemieux left the NHL???
If you believe that the careers of these two players are somewhat strangely linked, Lindros should've won his first title in his sixth season (in 1998) like Mario did in his sixth season, the Flyers should've repeated the next year, and will change their logo and jerseys after the 2nd Cup win, and not win another title since : ) Along that same thread, Lindros will hang up his skates after the 2006-2007 season.
(back to main sports page)