Drop-off/Pick-up Information
(Manila / Ninoy Aquino International Airport, Philippines)
If at all possible or convenient, avoid using vehicles registered in cities far from Manila. License plate lettering gives away origin information in the Philippines, and there are more than a few corrupt policemen in Manila who will pull you over and try to start something if they know you're from faraway land. If the driver of the vehicle is well versed in police corruption/tactics however, you may ignore this bit of advice.

When driving to the airport, make sure you follow the signs to get to the appropriate section of the airport! It may sound like I'm stating the obvious, but I'm not! It can be quite confusing with so many signs in the area, so, go slowly/patiently down the roads, and look for where you need to go for departures or arrivals. If you're still confused, don't hesitate to ask the airport security guards for help, they should be more than glad to direct you the right way.

If you're going to the airport from anywhere outside of Manila, give at least 1-2 hours of leeway in time, to allow for the perenially heavy traffic in Manila.

If you've arrived at the airport already,

Dropping someone off at the airport?

Know which airline the travelers will be using, so that the appropriate entrance can be easily located.
The departure drop off area is located on the upper level of the airport building, which is reached by a flyover road.
You're only given a limited amount of time to drop off at the drop off area (so as to avoid heavy congestion of vehicles), so make good use of that time.

Picking up someone at the airport?

You'll have to park your vehicle while waiting for your arrivals.
Try to get the person's flight number beforehand, so you can track progress over the "Arrivals" screen at the welcoming area.
You will be charged a fee of 30 pesos per person for entering the welcoming area.
If you're bored/hungry, there are restaurants (Jollibee and Greenwich) located at the welcoming area, and both have windows to view arriving people at the area
Expect the person to be out of the airport anywhere from 30-180 minutes after time of arrival.
You are allowed to have a vehicle enter the welcoming area, but the guards won't let you stay there for long if your pick-up party isn't there yet, so, you should only bring the vehicle when you have visual confirmation that your pick-up is already in the welcome area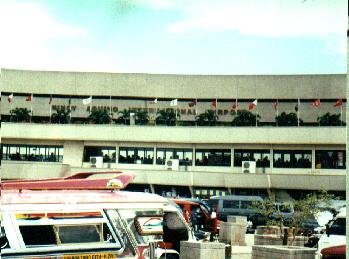 Front view of Ninoy Aquino International Airport. Departure drop off area is on the road where the flagposts are
Another front view, from which you can see that there is a restaurant at the welcoming area
back to the MIA/NAIA advisory index page
or, visit my main site page!