My latest adventures:
Well, I might not be the youngest Star Wars fan around, but I do love those films a lot, especially Episode 1, and even more than my previous favorite, "The Little Mermaid". Here's why I say that:

I know most of the major characters from The Phantom Menace by name and face, and love making my dad play the "Duel of the Fates" music video and the movie trailers and commercials. I also like sitting down on the couch and just listening to the movie soundtrack.

My favorite character is Obi-Wan Kenobi, though I do like Jar Jar Binks, Yoda and R2D2 almost as much. I also have a Jar Jar keychain on my backpack!

Tell me that "Fear is my ally" and I'll tell you who said that. If you say that "Fear is the path to the dark side", I'll tell you who else said that. And if I hear "always two there are, a master and an apprentice", you'll hear me remind you about who told you so.

I may not be a very good impressionist, but I think I do a pretty good job of imitating Obi-Wan (Nooooo!), Watto, Jar Jar, Anakin, and Darth Maul!

If I see Mom, Dad, or anyone else holding my Episode 1 data file book, I scream real loud for me to to get it! I really love looking at those pictures, and never got tired of them yet.

You should've seen me when I watched The Phantom Menace at the theater in Manila. My parents kept having to hush me every time I yelled out "Jar Jar", "R2", "Wan", "Maul", "Robot", "Baby" (Anakin) and everything else I saw that I knew on the big screen. I'll never forget that, since it was also my first time to be in a theater.

Like any other kind of love, my love for all things Star Wars always changes, mostly growing bigger and better. I'll make sure my dad keeps this up to date with my latest of learnings and other things. Til then...

My godparents team roster (for future reference)!
Laila Castillo
Immaculate Corpuz
Marissa de Leon
Emily Garcia
Dana Herrera
Christine Marie Limjap
Bernadette Lopez
Evangeline Maranon
Hazel Marinas
Yvonne Pimentel
Rosalyn Soria
Judy Yan
Gerard Aquino
Peter Catajan
John Jay de los Reyes
Noli Flores
Jason Go
Joeneil Manantan
Romeo Medina
Roland Quilala
Roldan Silva
Aldwin Sombrito
Benny Tan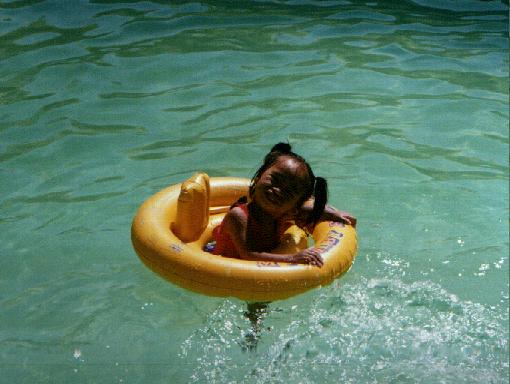 Me, swimming all alone in the pool (with the aid of a flotation device of course!)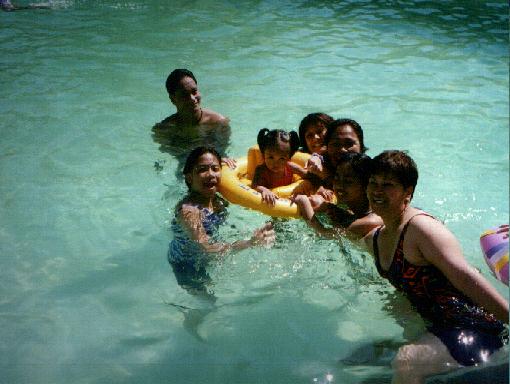 Me hanging out at the pool with my relatives led by Arvi Joy. Dad hangs back.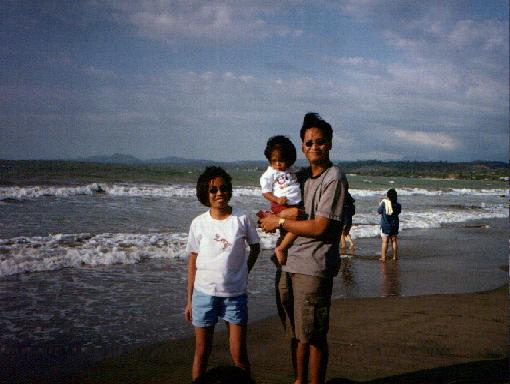 Me and my family at the shore
I'm swinging!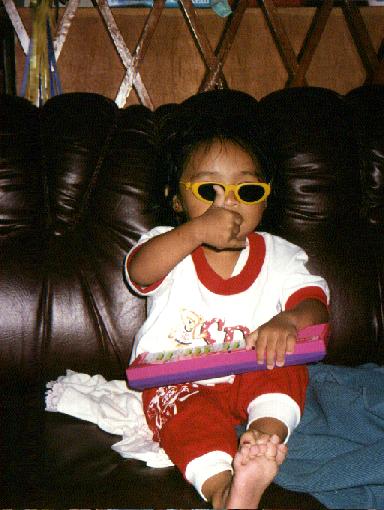 Me doing the "shaka" sign!